A super flexible rotary file, VaryFlex Neo is a stand alone system that has been designed in the UK with cutting edge technology to enhance your performance, but at a fraction of the cost.

A PREMIUM PRODUCT AT A FRACTION OF THE COST Our files have won awards in the UK for innovation, and in 2021 we took the prestigious title of Product Launch of the Year at the Dental Industry Awards. We keep standards high, but prices low, so you can provide the best possible treatment solutions. Neo is available for just $29.95 for a pack of 6 files.
VaryFlex NEO
Why choose VaryFlex Neo?
With a smaller 4% constant taper, Neo is a super flexible rotary file that can navigate any canal whilst respecting the root canal anatomy. In most cases, you'll need just two files to shape the canal, but larger files in 04 or 06 tapers are available to suit your own shaping protocols.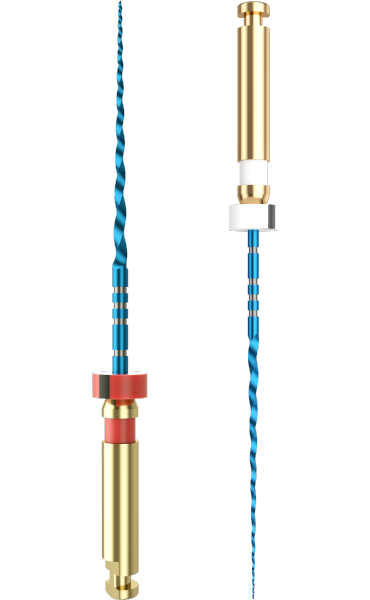 *Compared to the equivalent non heat treated NiTIi files (internal lab testing).
The Specialist Opinion
I use VaryFlex in my endodontic referral clinics. They are reliable instruments which produce effective preparation shapes consistently, efficiently and smoothly. The range allows for use in both simple and complex cases, and their cost effectiveness, without a loss of quality, is a welcome advantage.

Mike Waplington, Specialist in Endodontics Past President, British Endodontic Society
I have been using the VaryFlex files from Endoperfection and have been extremely pleased with them. The packaging is premium and the design of the files has clearly been carried out with endodontists at heart. The shorter shank allows easier access to posterior teeth and also patients with reduced opening. I have found the files to be reliable and would not hesitate to recommend them.

Ian Blewitt, Consultant in Endodontics, Eastman Dental Hospital
As a practice owner I always have an eye on cost without sacrificing quality. The VaryFlex files are not just a more cost effective replacement for ProTaper files, they are far nicer to use, giving a much smoother cut and a drastically reduced drag in effect from the finisher files. Because all VaryFlex files are sterile we use them across all our sites and have introduced them into the teaching clinics at the Dental Hospital.

Damian Kavanagh, Specialist Interest in Endodontics, Endodontic Instructor, Birmingham Dental School
A brilliant file system that allows me to predictably achieve excellent reproducible results in all cases. As a prolific user of many files systems I have changed my practice limited to Endodontics to the VaryFlex range, not only achieving great results but also great savings. Everybody should be using these files, the NEO system has converted me away from the single file systems as its smooth, effortless ability to get to length, in even the most challenging cases is not something I have ever experienced before. Truly game changing.

Greg Creavin, Specialist in Endodontics, Private Practice, Dublin
Compatible motors
Varyflex files are compatible with a range of motors, including X Smart, Woodpecker, VDW Silver and Gold, and many more.
VaryFlex NEO
Endoperfection - the UK's first endodontic file creator
Our files are available to purchase online. Shopping with Endoperfection is quick and easy, with orders being shipped to the US within 2 working days. Enjoy free shipping on all orders over $150.
VaryFlex Obturation
Matching Gutta Percher and Paper Points